50 Day Fasting Testimony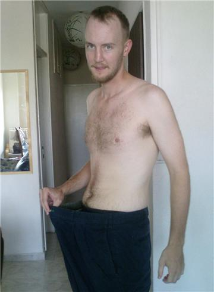 Ten days of juice fasting followed by 40 day of water fasting.
Weight loss 50 lbs.
I was 50-60 lbs overweight from where I was used to being in high school. I thought my metabolism would allow me to continue eating whatever I want for life. I began to spend most of my time in front of the computer and physical exercise was very limited. I would eat to deal with stress, boredom, or just for an extra "sugar high." I felt God speaking to me about 1 year and a half earlier that I needed to exercise to fulfill my calling. At the time I didn't understand what this meant, and I neglected to do this. That's when I gained about 50 lbs. in a year. Other people began to take notice of my weight gain, but I mostly ignored it with baggy clothes and not going swimming. One day I went to buy some new pants (because my former pants didn't fit anymore), and it dawned on me that I had gained 8 inches on my waist from where I was used to being.
At this point, I heard a message by someone who gave Biblical reasons why health is important (along with his testimony). This motivated me to make the changes in my life toward weight loss. I then began to work out with riding my bike, walking on the treadmill, and jogging etc. I began to cut out most meat and dairy out of my diet and eat more raw fruits and vegetables. Through these disciplines I lost 37 lbs. in close to 2 months! It was from there that I decided to do a 10 day juice fast, immediately followed by a 40 day water fast. With God's grace and a body that was detoxed well from exercise and a healthy diet; I found that the first 30 days of this fast were fairly easy. During the first thirty days I was walking miles a day and going up and down hills around Jerusalem. I had plenty of energy and strength.
The final 10-15 days of the 40 day water-only fast began to be more of a challenge for me. I began to feel less strength for walking long distances and some light headedness. But I decided that I had come this far and so I would not go back. I took that as a sign that I was to rest and spend more time with God. As I did this, I found the grace and strength to keep going. My body felt so clean and I was surprised by how few times I really had "hunger pains." During this period of my fast, I realized that I had to change my belief systems about the way I look at food so I can break my fast properly. I wanted to know more about the difference between starvation and fasting. This is when I found Tom Coghill's fasting website that gave me information to confirm what I was already learning, and to teach me many fresh perspectives as well. I lost 50 lbs. during the 50 day fast and I lost 87 lbs. overall in 3 months! I feel better, have more energy, and am back to the fitness level that I was in high school. I broke my fast with mostly raw fruits and vegetables and the feeling was awesome as I tasted the variety of flavors of God's foods in their natural state.
What was even more important to me was the peace of knowing I'm doing the Father's will. Jesus (Yeshua) overcame temptation and walked in a new strength and power after His 40 day fast. And it was a joy for me to be able to walk in the Master's footsteps to gain discipline over self, spirit, soul, and body.
Glory to the Lamb,
C.L.