Fasting for Kidney Disease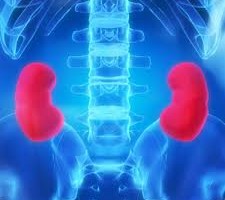 My wife is 50 yeras old and suffering from kidney disease ( only 18 % eGFR). Do you suggest water fasting or juice fasting?
Thanks
Yes juice fasting can assist the kidneys to restore normal function. Water fasting will release toxins too quickly.  A 30 day juice fast repaired my kidneys that cause pain through out the day.
Drink lots of juice and take avocado if you kidneys start to hurt.
The key is to slow the detox rate to what the kidneys can handle comfortably.
I had to fast then eat then fast longer then eat several times to cure my kidneys.
The shorter fasts helped and reduced the pain but it took 28 days of juice fasting for them to heal.