Fasting and Compulsive Eating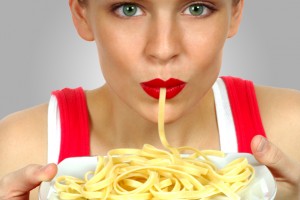 After eating a whole box of brownies in one sitting, I realized I had an obsession with food. I waste so many minutes of my day thinking about "what to eat" "when to eat"  and so furth.  I realized my constant obession with food turned into a sin ful habit.  Today I decided that tomarow I will start my 40 day water cleanse. I am mainly doing it for the Lord and to give myself self-control and discipline. I hope my dedication and commitment for our Heavenly Father will help me get through these next 40 days. My only concern is loosing to much weight.  I am 5'7 and at a healthy weight of 130-135 pounds.  I know my body has lots of toxins though because I have irrugular bowl movements and a bloated stomach, so I feel like this fast will be beneficial in the detoxifying aspect, but how do I know when im in the "starvation" mode and when my body starts feeding on my healthy energy stores??
Also, if I turned to juices, what kind is acceptable?
Response By Tom Coghill
Do not do a long water fast as that will increase you compulsive behaviors. Do juice fasts of 2 to 4 days then try to break it correctly for 5 days.  Read http://compulsive.ws and my new work on emotional eating at http://obesity.fasting.ws   Fasting can be transformational for self-development but only if you are working on cleansing the mind of toxic thoughts.