Reverend Tuguinay 40-Day Juice Fast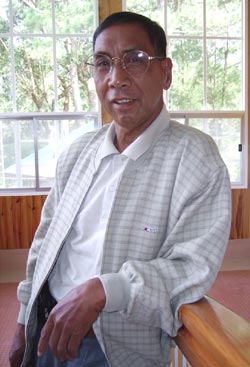 Fasting Cured: Hypertension, Diabetes, Cholesterol, Arrhythmias and Arthritis.
Name: Moreno Lindawan Tuguinay
Age: 67 years old
Occupation: Retired Clergyman of the Episcopalian Church in the Philippines (Anglican). Presently connected with St. Theodore's Hospital as Chaplain.
Treatment Method: Juice Fasting
Days of Fasting: 40 days
Treatment Period: September 7, 2008 to October 16, 2008.
Post Treatment Period: Presently in the post treatment diet.
Weight Loss:11 lbs.
Diseases Healed: Arrhythmia, Diabetes, Hypertension,Increase Cholesterol Level and Arthritis.
Treatment Supervisors: Dr. Clare Lalwet, Dr. Penny Domogo and Tom Coghil
Location: Sagada, Mountain Province, Philippines
Treatment Location: St. Theodore's Hospital of Tarsus
Medical History
I had been a sickly person for the past several years which I believe was due to the abuses I did to my body, soul and spirit. I don't admit it was due to ignorance but because of my negligence and stubbornness. I had been a person who loved so much to eat fatty, salty and junk foods. I also smoked a lot until 1982. As a result, I had been having uncontrolled high blood pressure and was diagnosed with Type 2 Diabetes. In addition to that, I had kidney stones, arthritis and a heart attack resulting in my having to undergo multiple heart bypass surgery in 1996. After the terrible heart bypass, I felt better and so I went back to my indiscriminate eating and drinking believing that my health was back to normal though I had to take several maintenance medications. Again, in August 2005, I had another heart attack necessitating an expensive Angioplasty. After the ordeal of those heart attacks, I decided to take control of my health but the temptation to go on eating and drinking anything was so strong. I succumbed to the same habit reasoning out that, anyway, I am taking my medicines religiously. However, despite my daily medications, my blood pressure, blood sugar and cholesterol levels remained elevated and worse, I had been having irregular heart beat (arrhythmia) and chest pains such that I had to be put on oxygen.
St. Theodore's Hospital, thru the initiative of our Medical Director, Dr. Clare A. Lalwet and the support of the staff, started a Health and Wellness Program with a plan of establishing a WELLNESS AND HEALING CENTER. By God's grace, a fasting enthusiast, Mr. Tom Coghill, who had undergone a health crisis before, came to Sagada looking for a place to put up a detox center. Again, by Divine plan, Dr. Clare met him and since both have similar vision, they agreed to include fasting and detoxification in the Wellness and Holistic Healing Program based at St. Theodore's Hospital.
One day, Dr. Clare shared me two books written by Tom on diet and juice fasting. I started reading them and was fascinated, so I went on reading until I finished the two books. Believing that the proposed Wellness and Healing Center is a noble program and that it has to start somewhere, I decided to fully participate in the venture and try it.
Progress Report
DAY 1: September 7, 2008, I started my fast drinking only vegetable and fruit juices.
Day 2: I checked my blood pressure and blood glucose and they were low so I did not take my medications and observed for a while. A week before the launching of the program, I shared my experiences with Dr. Clare and Tom and they were so encouraging and supportive so I went on with the juice fasting and tried my best to monitor my blood pressure and blood sugar even without medicines since I decided to forego taking them. Surprisingly, my blood pressure and blood glucose stayed normal. Dr. Clare asked me to share my experience during the launching of the program which I did.
The first few days were like hell especially when I see and smell food on the table. I prayed hard for guidance and strength to resist the temptation. It dawned on me that this is a severe struggle between the mind and body. I experienced hunger, dizziness, acidic taste in the mouth, irregular heart beats, and numbness on my right hand, stomach pain, and sleeplessness. Choosing between health or hell, I chose health and so I continued the fast. I am very happy that my wife and children are very supportive of my struggle to regain my health. As the days went on my wife and children tried to participate by taking juice and small amount of solid food. My wife said, "it is so encouraging when the head of the family starts something good for health."
DAY 25: My blood pressure and blood glucose remain normal even without my taking medicines. I experience mild arrhythmia and slight chest pain only once in a while unlike before which was everyday and more intense. I lost weight so I feel lighter and move more freely. Even when fasting, I could walk back and forth from my house to the hospital (10 kilometers total distance) without feeling faint. With all the benefits I have experienced, I decided to go on with my juice fasting until I completed thirty days which culminated on October 5, 2008.
After my successful fast, I resumed eating food but in moderation, and as much as possible avoid fatty, salty, sweet foods and drinks. I will eat more raw foods also. I HAVE LEARNED MY LESSON and realized the meaning of what the bible said that THE BODY IS THE TEMPLE OF THE HOLY SPIRIT.
Day 30: During and after fast, Fr. Tuguinays claims to be strong, no body weakness or malaise felt. He claims to maintain high energy level. He also reports that his blood sugar levels are in normal range.
Day 40: Weight loss of 11 lbs after 40 days of fasting.
My Juice Mixtures
Pineapples, bananas, apples, persimmons, pechay, squash, water cress, sayote, camote and Dama de Noche shoots, etc. They have different tastes specially when mixed together but I experienced my taste buds made the necessary adjustments. My favorite juice is pineapple, carrots and pechay. I took 1 1/2 liters of juice a day and after 25 days of juice fasting, I lost 7 lbs. of my weight and what matters most is I am happy and healthy.
Post Treatment Diet
85 % of raw fruits and vegetables, 30% of rice, 5% of wheat bread, 3 % sea fish and 2 % nuts.
Julie Tuguinay (the wife) says:
The effect of my husband's deteriorating health conditions has been very disturbing, bothersome and very stressful especially when we moved to Bangaan, Sagada in May, 2000, away from the security and accessibility of St. Luke's Medical Center in Manila. True indeed, he had a lot of unexplained chest pains, high blood pressure, high sugar and cholesterol levels, back pains and susceptibility to cough and colds– all these led to emotional turmoil making me doubt the medicines he is taking, and even the latest angioplasty he had in 2005. All these we had to endure through the years.
On September 7, 2008, my husband came home with a bag of carrots and a bundle of leafy vegetables and asked me to juice them for his dinner. While we were eating, he started talking about the book on juice fasting written by Tom Coghill and the Wellness Program that Dr. Lalwet has been contemplating. While he was sharing, deep inside me was a doubt that he will survive with only juices since we have never totally given up meat in our diet despite his health problems. He, himself, insisted on buying frozen chicken frequently despite our efforts to reduce our meat intake.
Days went by and I noticed he was really sincere about his intention to continue his fast. At times, he is beaming with gladness saying that he is surviving with only juice intake and yet maintains normal heart rate, blood pressure, level of blood sugar which he monitors every morning, and with minimized chest pains.
He momentarily put aside all his medicines while maintaining his fruit and vegetable juices. On the 10th day of his fast, we listed all the medicines he is taking and the costs. To our surprise, we saved P3,325.00 in 10 days!
Having gone through all these experiences myself, I have arrived at a more intelligent understanding of the purpose and meaning of my life: That I have a special role to play in the restoration of my husband's health and preventive measures for the whole family. This fruit and vegetable fasting opened new hope which I have been searching in the past through my prayers. I have been fervently asking God to lead us the way to an alternative healing and here it is—FRUIT AND VEGETABLE JUICE FASTING. Whatever are the principles behind, I strongly believe they cure, they heal, they restore one's emotional, physical and psychological well being.
As I reflect through life with my husband as a heart patient survivor, I can clearly see the workings of the hand of the unseen director in the drama of life. I can see how God holds the destinies of faithful believers, how he plans for each life but at the same time permit us to exercise the POWER WITHIN US to make decisions for our health.
Reverend Tuguinay Acknowledgements
Finally, I would like to take this opportunity to thank God, Dr. Clare, Tom, the STH staff, and my wife and family for their prayers, encouragement, support and care for my struggle to go on JUICE FASTING. Praise the Lord!
Medication Report
These medications were taken before fasting, since 1979 for Blood Pressure and 1996 Cardiovascular Disease. Amiodarone 400 mg, Simvastatin, Imdur, Solosa, Metformin, Aspilet, Candesartan, Metoprolol, Glymiperide, Elecoxib 200 mg, Vitamin E and Coenzyme. After treatment, the patient is medication free.
Arrhythmias Report
I experienced arrhythmias 2 to 3 times a day before I started juice fasting. So during fasting, it decreased to 1 to 2 times for the first three days. On the 7th to 25th days of fasting, I experienced arrhythmia once in a while; and on the 30th to the 40th day, I did not experience any arrhythmia.
Diabetes Type II Report
In 1996, i was diagnosed of Diabetes. I am not sure whether insulin deficient or resistant.Some factors that leads to diabetes is unhealthy life styles and habits, thus meat and rice increases diabetes.
Blood Pressure Report
Before fasting, my blood pressure averages from 170/110mmHg, 120/80mmHg to 160/100mmHg while I am taking Candesartan to help lower down my blood pressure. During and after fasting, my blood pressure averages from 110/70mmHg to 120/80mmHg.
Blood Cholesterol Report
In the earlier part of 2008 before fasting, I had an increase in blood cholesterol levels ranging from 80 – 290 mg/dl while taking my medicines (Simvastatin). During and after fasting without medications, refer to the laboratory results below for September and October.
Diagnostics:
Date: September 26, 2008
Physician: Dr. Lao, Paul LAM SUN
Days of Fasting: 25 days
BLOOD CHEMISTRY

TESTS

S. I. UNITS

Conventional

Result

Reference Value

Result

Reference Value

Total Cholesterol
5.16
3.89-6.22 mmol/L
199.16
150-240 mg/dl
Triglycerides
1.06
0.68-1.88 mmol/L
93.27
60-165 mg/dl
LIPO PROTEIN PROFILE
VLDL-Cholesterol
0.48
0.00-1.04 mmol/L
18.53
0-40 mg/dl
LDL-Cholesterol
3.55
1.56-4.1mmol/L
137.00
60-159 mg/dl
HDL-Cholesterol
1.13
0.9-1.7 mmol/L
43.53
35-65 mg/dl
HDL-Ratio
4.56
Below 4.0
4.56
Below 4.0
Date: October 26, 2008
Physician: Dr. Clare Lalwet
Days of Fasting: 40 days (Note: Non fasting blood sample, meaning, I ate breakfast before blood was taken)
TESTS

REFERENCE VALUES

RESULTS

Blood Sugar
70-110 mg/dl
85.8 mg/dl
Random Blood Sugar
108-140 mg/dl
Total Cholesterol
200 mg/dl
171.5 mg/dl
Triglycerides
36-165 mg/dl
107.8 mg/dl
High Density Lipoprotein Male:
Female:
26-63 mg/dl
33-75 mg/dl
31.1 mg/dl
Low Density Lipoprotein
65-175 mg/dl
118.8 mg/dl
Creatinine
Male:
Female:
0.9-1.5 mg/dl
0.7-1.3 mg/dl
1.4 mg/dl
Blood Urea Nitrogen
7-23 mg/dl
7.8 mg/dl
Blood Uric Acid
1.5-7 mg/dl
5.5 mg/dl
Total Protein
6.2-8.5 g/dl
Albumin
3.5-5.3 g/dl
SGPT/ALT
Up to 38 IU/L
24.5 IU/L
SGOT/AST
Up to 40 IU/L
28 IU/L
Arthritis Report
Way back 1982, I had joint arthritis wherein i experienced pain on both my upper and lower extremities (feet and hands) extending to my lower back. However it occurs once in a while. Additional cause for pain is bad and cold weather. For treatment, i was prescribed to take arthritis medications. Unhealthy lifestyle contributes to it, such as eating foods rich in uric acid like beans and other legumes, internal organs of animals, meat. So I stopped taking these types of food. This helped a lot, improving my condition.
Kidney Report
I had no operation for kidney stones. In 1993 and 1997, I had a Laser Treatment, 2 times for both left and right kidneys after each ultrasound respectively.
Post Treatment Report of Dr. Clare Lalwet
Working with Fr. Moreno in the hospital and knowing of his medical history and recurring health problems, I was concerned that, at anytime, he might just collapse and we would not be able to revive him. It's like having a walking time bomb around that could suddenly go off. Looking at him now, I am amazed. The transformation from a sickly man to a beaming, positively hopeful one, free of all those health problems which have plagued him through the years is simply remarkable – and all achieved without taking any drugs, just juice fasting for a month. For a physician trained in conventional medicine, this is an eye opener. This may be the first clinical evidence of a successful recovery from chronic disease in a medical hospital due natural therapeutic procedures. His recovery is complete and I believe that with proper diet, the treatment has eliminated maintenance medications for hypertension and diabetes. This success story validates that fasting with raw juices accelerates the process of healing and when combined with nutritional therapy becomes an effective natural treatment that can be integrated into normal hospital procedures for the treatment of chronic disease.
Case Evaluation – Dr. Penelope Domogo
I am the Provincial Health Officer I, of the Provincial Health Office, Bontoc, Mountain Province. I have known Rev. Tuguinay and his medical history for many years. His recovery through this juice fasting treatment is simply amazing. This proves that the body has tremendous capacity to heal itself if it's natural healing powers are harnessed and enhanced with natural juices. Our health records show an increase of degenerative diseases in Bontoc and Mountain Province over the last 27 years with the introduction of the Western Diet. The significance of this treatment is that it is accessible to everybody especially those who cannot afford expensive conventional medical care and empowers patients and communities to take control of their health. This will go a long way in achieving our country's Millennium Development Goals of alleviating poverty, disease and suffering.
___________________________________________________________________
CASE ANALYSIS
40-DAY JUICE FASTING TREATMENT & HYPOTHESIS OF CURATIVE RESULTS
Patient: Reverend M. Tuguinay, Oct 14 -2008
Out patient of St. Theodore's Hospital,

Sagada, Mountain Province, Philippines
By Tom Coghill, Director of Research

St. Theodore's Hospital
The above documentation and primary diagnosis and lab testing were conducted by third party doctors and laboratories to verify this as a legitimate claim of recovery from chronic disease. The juices used during the therapy were locally grown. The nutritive and chemical nature of the produce was untested.
Hypothesis on the Symptoms of the First Three Days of Detoxification
Rev Tuguinay stated that he experienced hunger, dizziness, an "acidic taste in the mouth", irregular heart beats, and numbness on his right hand, stomach pain, and sleeplessness during the first few days of treatment. One possible explanation for the symptoms of the first three days could be theorized from the strong acidic taste in the mouth that was described.
Ketosis is a state in metabolism occurring when the liver excessively converts fat into fatty acids and ketone bodies which can be used by the body for energy. The three ketone bodies are acetoacetic acid, beta-hydroxybutyric and acetone (the active ingredient in nail polish remover). The exhalation of acetone is responsible for the characteristic "fruity" odor of the breath or acid taste in the mouth of persons in a state of ketosis.
A strong acidic taste in the mouth would indicate a rapid conversion of fats to ketones, this may have occurred due to reduced glycogen storage in the liver. Normally, glycogen stores in the liver and muscles can last for one or two days in combination with juice but Rev Tuguinay may have had very low levels of liver and muscle glycogen and high levels of fatty acids in the blood due to Type 2 Diabetes. This may have caused a 3-day period of ketosis. The dizziness, irregular heart beats, and numbness on his right hand, stomach pain, and sleeplessness could have been caused by the excess of ketone bodies that would disrupt cellular metabolism. By the third day these symptoms disappear implying the body had entered a balanced state of catabolism and that homeostasis was reestablished.
Type 2 Diabetes, Background
Type 2 Diabetes is a metabolic disorder that is primarily characterized by insulin resistance, relative insulin deficiency, and hyperglycemia. It is rapidly increasing in the last 30 years in the Philippines due to a cultural change toward Western eating habits to the point of becoming epidemic and is now increasingly seen in children and adolescents. Complex and multifactorial metabolic changes caused by Diabetes Type 2 often lead to damage and function impairment of many organs, most importantly the cardiovascular system.
Insulin resistance is the condition in which normal amounts of insulin are inadequate to produce a normal insulin response from fat, muscle and liver cells. Insulin resistance (IR) in fat cells reduces the effects of insulin and results in elevated hydrolysis of stored triglycerides elevating free fatty acids in the blood plasma which increase the risk of cardiovascular disease.
We do not know if Rev Tuguinay's Type 2 Diabetes was caused by insulin resistance or relative insulin deficiency or a combination of both. This successful treatment indicates that either the pancreas recovered its ability to produce sufficient insulin for the post treatment diet, or the insulin resistance was healed at a cellular level or both conditions were healed simultaneously.
The recovery of the metabolic processes of the cells of the body or the pancreas, indicate that many degenerative disease conditions could be addressed effectively by a juice fasting therapy.
Arrhythmias Background
Cardiac arrhythmia is a term for any of a large and heterogeneous group of conditions in which there is abnormal electrical activity in the heart. The heart beat may be too fast or too slow, and may be regular or irregular. Each heart beat originates as an electrical impulse from a small area of tissue in the right atrium of the heart called the sinus node. The impulse initially causes both of the atria to contract, then activates the atrioventricular (or AV) node which is normally the only electrical connection between the atria and the ventricles or main pumping chambers. The impulse then spreads through both ventricles via the His Purkinje fibres causing a synchronized contraction of the heart muscle, and thus, the pulse. During Cardiac arrhythmia, the normal electrical activity in the heart breaks down disrupting the synchronized contractions needed for normal activity.
If the heart muscles of Rev Tuguinay were not getting sufficient glucose for normal operation due to insulin resistance or deficiency and being forced to function with the extra demands of pumping blood with increased plasma viscosity due to elevated levels of fatty acids in the blood that could have been the root cause of the arrhythmias. When the root cause of the diabetes was addressed the arrhythmias stopped.
The nerve pathway was damaged or disrupted and during the juice fasting treatment the catabolism reestablished normal nerve function.
If the healing of arrhythmias was due to nerve function being restored allowing normal electrical conduction within the heart, this could indicate that many disease of the nervous system may be positively affected by prolonged juice fasting therapy.
Hypercholesterolemia Background
Hypercholesterolemia (high blood cholesterol) is the presence of high levels of cholesterol in the blood. It is not a disease but a metabolic derangement that can be secondary to many diseases and can contribute to many forms of disease, most notably cardiovascular disease.
Elevated cholesterol in the blood is due to abnormalities in the levels of lipoproteins, the particles that carry cholesterol in the bloodstream. This may be related to diet, genetic factors (such as LDL receptor mutations in familial hypercholesterolemia) and the presence of other diseases such as diabetes and an under active thyroid. The type of hypercholesterolemia depends on which type of particle (such as low density lipoprotein) is present in excess.
Hypertension, also referred to as high blood pressure is a medical condition in which the blood pressure is chronically elevated. Hypertension can be classified either essential or secondary. Essential hypertension indicates that no specific medical cause can be found to explain a patient's condition. Secondary hypertension indicates that the high blood pressure is a result of (i.e., secondary to) another condition, such as kidney disease or tumors. Persistent hypertension is one of the risk factors for strokes, heart attacks, heart failure and arterial aneurysm, and is a leading cause of chronic renal failure. Even moderate elevation of arterial blood pressure leads to shortened life expectancy. Although no specific medical cause can be determined in essential hypertension, it often has several contributing factors such as obesity, salt sensitivity, insulin resistance, genetics, and age.
The insulin resistance may have been the root cause of the hypertension and when the metabolic disruption was restored to healthy metabolism, blood pressure reduced.
Hypertension Reduction, Hypothesis 2
Reduced plasma viscosity in a bloodstream free of digestive particles (fatty acid and proteins) flows through the veins and arteries more easily thereby reducing blood pressure.
Hypertension Reduction, Hypothesis 3
There is less available glucose available for the heart muscles and it reduces the pumping force to reduce energy consumption.
Hypertension Reduction, Hypothesis 4
The blood become more alkali due to the juices and the zeta potential of the blood is changed making the protein and fatty acids that are being transported less sticky.
Hypertension Reduction, Hypothesis 5
By the third day, the body has used up all fatty acids and proteins that were in the blood following digestion and the body entered "Catabolism Phase 2″, the utilization of body fat for fuel. The body has mechanisms that are triggered to conserve energy and one of the effects of that mechanism is lowered blood pressure.
Hypertension Reduction, Hypothesis 6
The absence of all dietary cholesterol would reduce blood cholesterol levels. The lowering of blood lipid levels due to the juice fasting treatment would also decrease blood cholesterol levels. We hope the medical records of Rev Tuguinay indicate the type of cholesterol that was found in the blood. At the present we are not sure. Further cholesterol testing with a long-term study will determine if the Hypercholesterolemia is permanently cured.
We have several case studies of lower hypertension that if replicated, could be the foundation for creating evidence-based treatment models that could be further refined through phase 1, 2 and 3 clinical trails for successful integration with standardized medical procedures to reduce post-op complications due to post-operative embolism and deep vein thrombosis. Lowered blood pressure would reduce postoperative hemorrhaging following postoperative increase in blood pressure. It appears that of the 6 patients with hypertension presently in treatment at St. Theodore's Hospital, all of them have indicated normalization within 3 days of juice fasting.
Post -Treatment Diet
The diet that is being followed includes fresh juices, no fried foods or processed oils, no refined starches or sugars and more fresh fruits and vegetables eaten in several small meals throughout the day. This diet is optimum for maintaining healthy cholesterol levels, cardio vascular health and minimum insulin demands. Rev Tuguinay is designing his diet with these guidelines and will be posting progress updates.
Case Study End Note
We are seeking comments on this research by skilled professionals. Please sign in at the top right of this page and post your questions and comments. As far as we know, this is the first medically documented successful treatment of therapeutic juice fasting conducted by a hospital. The above case study is a primary hypothesis by Tom Coghill and will be adjusted as new information becomes available.
Moreno Lindawan Tuguinay +639282536910
Email: binwag061543@yahoo.com
St. Theodore's Hospital
Sagada, Mountain Province
2619 Philippines
Hospital Contact +639215353032
Email: sagadahospital@gmail.com