April 12, 2008 | | 21,213 Views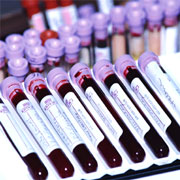 Blood work needs to have the bloodstream as clean as possible to get an accurate reading. Sip the smallest amounts of water possible just to wet your mouth and nothing else.
For an operation you cannot even drink any liquids for hours before the operation. I was turned away from an operation on my foot for drinking 1/2 glass of water, 2 hours earlier.
As far as a blood test determining triglyceride levels is concerned, for 12 to 14 hours before the test, only water (no coffee!) is permitted. Overnight fasting is essential for an accurate measurement of blood triglycerides! In addition, alcohol should not be consumed for the 24 hours just before the test.
You are also not supposed to take any vitamin supplements 24 hours prior to your fasting blood work. If you are currently on antihistamines, antibiotics or cortisone treatment only, you need to call the lab or your doctor for more information on how to proceed.
Anything taken in, other than water, during that time can elevate the blood triglycerides as they change dramatically in response to meals. Without the proper fasting, they can easily be high enough to prompt your doctor to prescribe drugs.

By Tom Coghill of Fasting.ws Articles  may be copied or reproduced as long as the back links to fasting.ws are intact and the author's name is included.
bood test fasting
,
drink blood testing
,
fasting bood work
,
How to Fast
Comments On This Article
You must be logged in to post a comment.
Recent Comments on Fasting.ws:
Fasting Progress Reports (365)

indigowonders: Christina–I&#8 217;m sorry to hear about your father. He will be in my prayers. I'm an RN and if there are any questions I can help answer for you, please let me know. Welcome Robert–Hang tight. We've all been there. Racheal and Sarah–My heart goes...
Robert: HI Lena, I add apples to all of my juicing but I will increase it to see if that helps. Thanks for the advice. Also, wanted to encourage you to keep at it. Remember healing doesn't come until later in the fast. Hi Keith, Unfortunately I cannot dedicate myself to a long water fast...
Racheal: Dearest Sarah, It is so hard to bring a baby into this world. No man would ever understand that miracle. I know how you feel about your loss. It took me a long time to realize that I do not hold the power of life or death in my hands. That belongs to the Most High. Your baby was meant to...
Racheal: Hi Lena, Wow!!! Day 13 and still going, wonderful, way to go. What is the problem with your skin that you are fasting? Above all, don't ever be dicouuraged. You are getting healthier and younger on your fasts, so don't let the journey be what's important but the...
Ed: Everyone, I am on day 18 of a juice fast with some egg whites, like Tom suggested. I got sick of the veggie juice last month on a 10 day juice fast. Now I am pretty much forcing myself to drink the veggie juice. One good trick is to use a straw to drink the juice you don't care for. It...
Lena: Day 13 for me..not much has been happening. Getting disappointed that I haven't seen any results yet. Worse, I finally decided to exercise (I hadn't before) and I gained 2 pounds overnight! I don't believe it, but it's still discouraging. It was only some light yoga....
Lena: Everyone, Thank you for sharing your personal stories. I'm sorry to hear of your tragedies, and hope that you'll be able to find some relief. All of them touched me, and I empathize with you all. Hi Sarah, I think you should start with carrots. They supposedly taste the best,...
keith101: HI CHRISTINA… Dont worry about your fasting at the moment! if your father is in hospital.. thank you to for opening up a little, that was brave of you. Looking at your posts!.. I think there is more to you than people will give you credit for?… I may be thousands of miles...
keith101: HI LENA HI INDIGOWONDERS… HOW ARE YOU BOTH TODAY?… I normally leave messages in the morning and at 8pm uk time so sometimes i miss your comments…. with kind regards keith.
keith101: boothed well done! day 11 tomorrow thats great… stay strong and the time will pass! i still remember day 1 lol… look at you now your on day 11 tomoz… best regards keith.
keith101: robert i cant help but add to my last post… i have heard a few times before about enemas,but all the feciecs that lie in the body must be toxic and have an effect on the body whilst lying internally? every time iv taken an enema i really have felt much better and cleaner inside...
keith101: HI ROB… Water fasting in my experiance is a lot easier on hunger!.. juicing i would have thought?..gives you the cals,and carbs the body needs to to stay in a limbo state?… half fasting..half in hunger due to your body feeding on nutrients thus hunger will be there?.. In my...
Christinalove3: My dad is in the hospital having heart surgery plus he has lung disease so its messing up my fasting. I'll have to be stronger I suppose. Ill post in a week.
Robert: Hi Keith, I have been considering doing an enema because I haven'thad a BM since Tuesday. I may do one today but I'll avoid doing them daily as I also heard that you should leave your bowels alone during a fast (not sure why)…. I am finding day 5 more difficult (i.e....
boothed: I meant I am on day 10.
boothed: God Bless Everyone and welcome Rob. I am not on day 10 of my 21 days of water and juicing. I really wanted to eat yesterday but did not give into temptation. I am looking forward to completing this fast because I know that God is in it. I want to encourage everyone to continue to seek...
keith101: HI TOM… Tom i see you have upgraded your site! this looks much better as when we log on.. massive improvement, thanks. regards keith.
keith101: christina…you will find all the support you need on this site… No one here is judgemental on anyone!… And tont think you feel out of place on this site as we are all behind you… warmest regards keith.
keith101: HI ALL TODAY…DAY 28.. Last night my nephew came round to see me after over a month, and said oh my god, what have you been doing?..lol.. My mother had already told him that i was on a water fast! But he was shocked when he had seen how much waight id lost… but never once...
keith101: HI ROBERT… THIS IS NOW DAY 5 FOR YOU! On my water fast i have only taken spring water!… half a cup of green tea in the morning sometimes.. and sometimes lemon on my water but felt tempted to have food after taking lemon in my water… i have taken enemas once in every 4...
keith101: HI RACHEAL… Maby we can share this OSCAR?…LOL.. Maby you should wait till sunday..lol.. My heart sank when sarah shared with us all today.. I wish i was there to give a group hug for support.. We have all met on this site at a perfect time?…iv been looking fore answers...
keith101: HI SARAH,,, I thank you so much for your testimony on your daughter, Joanna!…that was verry brave of you to share that with us all! My heart really goes out to you and your husband… No words can even begin to explain or describe the loss you had with your little princess...
sourgrapes: Hi all, I made it thru day 3 and now onto day 4, drinking water only today so i'll see how I go. My brain is really fighting the fast this time round, keeps trying to talk me into eating lol! But so far am staying strong. Sarah
Robert: Hello all, starting day 5 today. Feeling nauseous and greater pain throughout my body. But I know it is all good as it's a sign my body is detoxifying…. As the weekend is here, I will be only having juice this morning and then will be on water only until Monday. I am hoping...
Christinalove3: I'll post my water fast progress once I'm more ahead.
Christinalove3: Thank you Tom! Will pass the advice along. Very much so kind of you =]. Thank you for letting me know about the detox. Sounds lovely.
sourgrapes: Hi Racheal, My second child, Joanna, died when she was 6 months old. She was a heathy, happy, beautiful baby. My husband and I were both working at the time, working our shifts so one of us was always at home with our two kids, Our eldest girl who was 2, and Joanna. I left for work...
sourgrapes: Hello, everyone, Im on day three of my juice fast, it seems harder this time around, but want to go for another 3 days if I can. Keith, Racheal, I think you are brave to share your stories, and I thankyou for that. Maybe I will one day also be able to do so. Hi lena, hows the fast...
Tom Coghill: Hi Keith101 Wow your life and journey is very similar to mine. Yes it would be great to post your testimony.
Tom Coghill: Hi Christinalove3, The best method for a full body detox is a long juice fast, with period of water fasting and maybe one or 2 days of dry fasting followed by a diet high in raw foods absent of processed oils and starches. Add some vitamins and herbs with essential oils and you have...
Robert: Christina, I know that Cherry Juice removes uric acid from the body. Many people use it to treat Gout (which is a symptom of too much uric acid in the system). Perhaps a juice fast with cherry juice as one of the types would help. Rob
Robert: Thank you Sarah, Keith, Racheal, and Lena for your replies. Keith – congratulations on day 27…. that is quite an accomplishment. I look forward to hearing your testimony. We all have a story to share. I am hoping this fasting experience will be as life changing for me as it...
keith101: HI CHRISTINA…. I think tom will be able to give you really good advice on your question for your friend?.. regards keith…. THANKS RACHEAL… for your kind comments but maby i might take the OSCAR for my testimony on sunday..lol.. I am glad to see everyone starting to...
Christinalove3: Thanks Racheal. I asked because my friend has higher uric acid in her blood and would like to know if there is any type of fast that will get rid of uric acid. Any help would be appreciated.
Racheal: Hi Sarah, I lost my first son at the age of 12, so I understand your pain and your grief. We went on a vacation and both he and his cousin 15 drowned. That was over 10 years ago but it still tugs at my heart. I think of all the losses that a person could experience, the loss of a child...
Racheal: Hi Robert, A warm welcome to you. I pray that you find the support and love on this site that you may be looking for along your fasting journey. You have answered Keith's prayers. He has been wanting other men to stand with him as he is surrounded by a bevy of women. I trust that...
Racheal: Hi Keith, Oh, I would love to be in the place you are right now. Day 27. Wow, 3 tiny days to go. On the first day of the week when you share your witness, I want you to know that I have already received the award for: THE WORST SITUATION OF ALL TIMES, so maybe you might be able to be the...
Racheal: Hi Christina, A wonderful day to you. I too was bulimic for many years. I was an abused child and had a childhood that I would not want for my worst enemy. My parents had no time for me, so they sat me down in from the TV and surrounded me with food so I would be occupied and stayed out...
keith101: hi racheal its been a roller coaster of a ride..coming to the end of this fast has been one of a journey, I really neede to see how really strong i was spiritually?.. I am what you call the black sheep of the family… my brother and step bro are multi millionairs in aberdeen, who i...
keith101: HI ROBERT A BIG WELCOME TO FASTING.WS… I think this is the only site on the net where we are all family fasters!..we are all here for advice and support.. i wish you all the best on your fast and believe you will make it past day 4 with the support from this site and all who use...
Christinalove3: Can someone tell me how to do a better full body detox? If it's possible….
Lena: Thank you Tom.
Tom Coghill: Hi Lena Bowel movements during fasting are infrequent. Sometimes nothing for 3 days then several trips to the bathroom. Nothing in nothing out. Nothing to worry about.
Lena: Hi Racheal, Just think of it as one more day of water fasting . Maybe it was meant to happen-might make your dry fast even easier! Hi Rob, Welcome! I agree with you about the site. I decided to start my fast after coming here, and signed up because of the supportive people. Good luck! I...
sourgrapes: Hello Robert, Welcome! Good to have you! Im on day 2 of a short fast. Good luck on yours. let us know how you go, I hope you have the results your looking for. Sarah
Lena: Hi indigowonders, Haha, you nailed it! I've been drinking lots of apple juice lately. I always have (since the start of the fast), and nothing like that has happened before. I've increased my intake recently so that's probably why. I guess it's a good thing though?...
Robert: Hello, I am new to this site and must say I find the materials and postings very encouraging compared to other sites. On Sept 14th, I started a 21 day fast so I'm on my 3rd day now. I am doing this fast for spiritual and physical reasons. I have been in chronic pain for 12 years and...
Racheal: Hi to you fellow fasters, It's so wonderful to read all the posts and to know that all's fine with everyone, give or take some discomfort. There is a price for everything, and achieving better health through fasting, though a humbug, has great rewards. I really appreciate all...

Fasting Club Jan 2009 (485)

Lena: Hi alideleondi, Congrats on your progress! Why don't you post in the 'fasting progress reports' page instead-plenty of activity there .
alideleondi: Hello everyone, hope you are great! Today is going good for me so far. Yesterday I started my 1st day of juice fast and luckily didn't have any problems. I did start the day weighing 185, YAY! (191 prefast weight). Today, I woke up and had to rush around to get the kids ready...