Fasting Salt Water Flush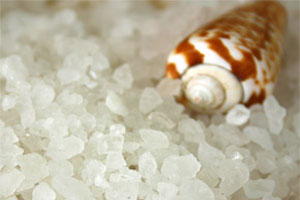 To perform a salt water flush, first thing in the morning, mix one quart of lukewarm water with two tablesspoons of sea salt. Drink the entire concoction before you have eaten any food. Within one hour you should have several bowel movements. If not, you may need to try adding a little more salt to the mix, or you may just need to drink more water to help aid the flushing process.
Since this flush is not harmful to the body and your body cannot become dependant on the salt water, like it can become dependant on chemical laxatives, this flush is safe to use as often as needed.
Salt Water Flush Preparation
Drinking an herbal laxative tea in the evening before you plan to do a salt water flush.   A laxative tea tea will help to loosen the deposits and gunk in the digestive tract making it easier for the salt water to flush the wastes out the next morning.  Senna tea is commonly used.
Salt Water Flush During Fasting
This flush can help clean the toxins and built up waste products out of your digestive tract.  The juices used in juice fasting have a small amount of pulp the can build up in the intestine and ferment cause gas and bloating.  The salt water flush can relieve the condition.  During a water fast, the last meal and stay in the colon for many days and the salt water flush will expel this feces. It may take 3-5 salt water flushes to fully empty the intestine during fasting.
Salt Water Flush as Treatment
Salt-water cleanses may be used to treat common colds, high blood pressure, digestive ailments, fever and degenerative related ailments.  Most importantly it can kill harmful bacteria in the intestine.
How to Do a Salt Water Flush
It's important to have salt from a natural source that has not been processed.  Sea salt is commonly used; evaporated salt, and ground-based salt is fine.  Two heaped tablespoons are recommended. Lime of lemon can be added to reduce the bad taste. Always have a large glass of spring water with lime in it at hand.  You can drink this in stages along with the salt water.  You can take up to 20 minutes to drink the salt water, but it is normally recomended to be taken as quickly as possible.  After 10-15 minutes massage your stomache 21 times clock-wise, then 21 times anti-clockwise, this will assist in the flushing process.    The Salt Water Flush can take as little as 35 minutes to 2 hours to work.  Most people experience minor discomfort doing the salt water flush.
Salt Water Flush Restrictions
Persons with very advanced forms of ulcer, appendicitis, intestinal tuberculosis, or cancer are recommended not to practice this technique.
After a Salt Water Flush
Always take pro-biotic to replace your healthy intestinal bacteria that will have been reduced do to the antibacterial properties of salt.
Do I Use the Enema in Conjunction With The Flush?
That is a matter of choice.  A daily enema would not be needed on the days where the Salt Water Flush is administered.
Note From Keith: I have performed the salt water flush many times and is [HIGHLY RECOMMEND] as part of your fasting program.
Take it easy on the first few days, especially if you have never done any kind of cleansing before (headaches commonly occur during detoxification.) Very soon you will be amazed at the effects on your energy, mood and emotions. Physical cleaning is often connected to a deeper more psychological and spiritual cleaning.